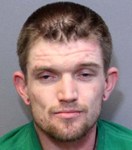 Yavapai County breaks up a fake ID ring.  Spokesman Dwight D'Evelyn with the Yavapai County Sheriff's Office says 25-year-old David Bukowski tried to pass off a fake driver's license during a routine traffic stop, but the deputy wasn't fooled and searched Bukowski's car.  The deputy discovered a cache of fake ID's inside 
Bukowski's car.  Bukowski confessed to police that he and two others were creating fake ID's from rooms at a Yavapai County Resort.  Deputies located the rooms and made a shocking discovery.  Bukowski's mother, Ronda Engel and her boyfriend David Berry, were making counterfeit $100 bills on top of the fake ID's.  D'Evelyn says receipts found in the room indicate the trio passed off the $100 bills to at least four area businesses.  Along with the counterfeit money and fake ID's, deputies found handguns and various drugs, including methamphetamine. 
Bukowski was arrested on several counts of forgery, possession of a forged instrument, assuming a false identity and possession of marijuana.  Engel was arrested on charges including possession of deadly weapon during a felony and possession of marijuana.  Berry was charged with misconduct involving weapons and possession of marijuana. 
—
Kris Dugan