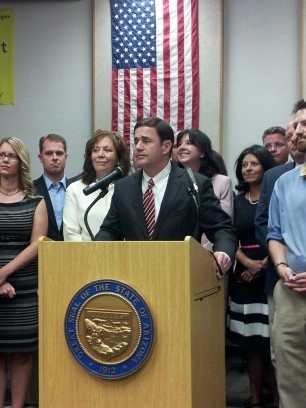 Governor Doug Ducey is realigning his office on Education. Governor's spokesman Daniel Scarpinato says Ducey is revamping the office to make it more efficient in addressing the Governor's classroom initiatives and increasing state Land Trust payouts to fund education.
Specifically, the latter would be up the State Legislature to put before voters, and if passed, would not be able to generate revenue until 2017.
At the heart of this office realignment

is
a newly launched website, Scarpinato says, will put information at
citizens' fingertips to create a more transparent process. "It houses
all the information on the meeting that the council has done, audio of
those meetings so people can listen if they can't make a meeting."
Scarpinato says the website provides an "additional forum" to share the
office's work and solicit imput on the Governor's Education initiatives.

Scarpinato says the Governor is open to any ideas, including a Special Session to settle the lawsuit involving over 300 million dollars in inflation funding. But he adds, it won't go anywhere without enough votes in the G-O-P dominated legislature.
–Barbara Villa