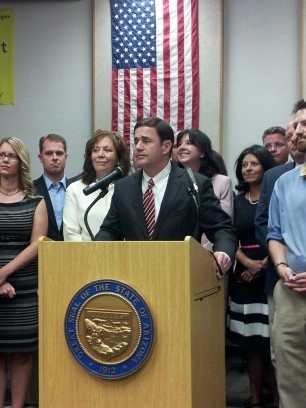 Governor Doug Ducey announced his idea to bolster public school funding, but voters will have to support it. He's proposing a ballot measure which would increase the distribution rate to "K-through 12 schools. That money would come from the Permanent Land Endowment Trust Fund. In 2012, voters O.K'd a measure allowing a 2.5% annual distribution from the trust to beneficiaries, like schools.
Ducey's proposal would raise the current distribution rate of 2 ½ % to schools to 10% for the first 5 years. Then it would drop to 5 percent over the next 5 years. Speaking to a crowd of supporters Thursday at Central High School, the Governor says, "We've all heard the call for more spending on public education, which is usually accompanied by a call for higher taxes. All of us can agree on more resources when it comes to public education."
Folks like A-E-A President Andrew Morrill says he's "cautiously optimistic" on the Governor's proposal. He says he welcomes the offer from any Governor proposing a revenue stream for schools, but he questions its success in light of the one billion dollars he says schools have lost in recent years.   Morrill says there are too many unanswered questions, like how the plan will actually play out. He adds, there's no such thing as "free money."
For the plan to become reality, the State Legislature must pass a measure for voters to act on. If they approve the issue on the November 2016 ballot, it would take effect in 2017.
–Barbara Villa