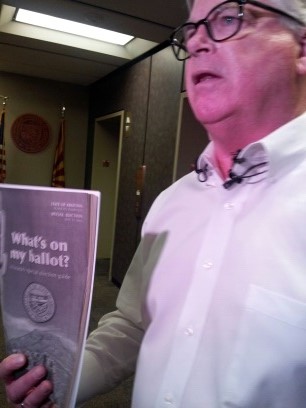 The State Attorney General's office is being asked to order a postponement of next week's school funding election. Attorney Tom Ryan, acting as a citizen, has filed a complaint with the Secretary of State's office to delay the Proposition 123 election. He says at least 200-thousand voters did not
receive their publicity pamphlets as state law requires, a failure that falls at the feet of Secretary Michele Reagan.
Ryan wants to see the election delayed to either the August primary or November general election. However, such a delay would be after the beginning of the new fiscal year, which means about 220 million dollars would be lost for FY 2017. Ryan, who opposes Prop 123, denies filing the complaint for political reasons, adding, Prop 124 for public safety pension reform, which he favors, would also be affected by the timing.
Matt Roberts with the Secretary of State's office says there's nothing in statute to warrant a delay. He adds, Reagan is owning up to the responsibility and doing everything she can to make sure voters get these informational pamphlets in time for next week's election.
This flap is just the latest vexation for Secretary Reagan, after March's bungled Presidential Preference election and a Spanish language ballot foul-up identifying the pension measure as Prop 123, instead of Prop 124.
–Barbara Villa