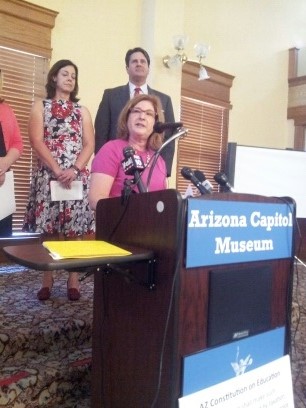 Now that Proposition 1-2-3 is a done deal, advocates say it's time for the next step. Arizona schools may be getting an extra three and a half billion dollars over the next ten years to cover inflation. But Dana Wolfe Naimark with Children's Action Alliance says, repairing the damage from
deep tax cuts is another matter. She says, even when including Prop 1-2-3 funding, we're still missing 1.9 billion dollars of funding every year from state cuts.
Naimark says, the next step is getting feedback from lawmakers on what their educational spending priorities are, and getting that information out to voters. School districts will decide how 1-2-3 dollars will be spent, but education advocates are afraid more tax cuts will only derail the financial gains prop 1-2-3 is offering.
Voters narrowly passed Proposition 1-2-3 last week by a margin of almost 51 percent to 49 percent. Opponents condemned the measure has just a raid on the State Land Trust.  But even 1-2-3 supporters say the "no" votes weren't an indication they were anti-education; it was more a signal of lacking trust in elected officials.

–Barbara Villa