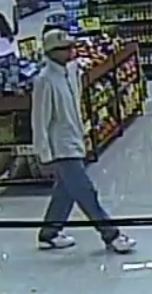 Phoenix Police need your help in tracking down a serial armed robbery suspect. Sergeant Derek Elmore with Silent Witness says the same guy has held up three Fry's supermarkets in Phoenix and Peoria since May 24th.
Elmore says in each holdup the crook pulls a gun on an employee and has them place money into a bag. Elmore says he seems to know something about store operations and strikes on a Sunday. Investigators are logically looking into whether the suspect is a former Fry's employee or if someone he knows works there.
The suspect is described as a 30 year old Hispanic male who's five-foot-seven, 150 pounds, and he's always wearing a white button-up shirt and a white baseball or fisherman's style hat. Elmore says there's no vehicle information. If you have any info, you're urged to call Silent Witness at 480-WITNESS. You could earn up to a one thousand dollar reward.
–Barbara Villa